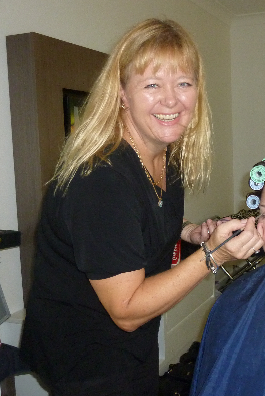 My Stress Free Bridal Day Guarantee!
Having worked in the television industry on newsreaders, which is a live programme, if you run late – you never work again!
It is extremely important on your wedding day for the makeup and hair artists to not run late! If they run late, then you are late getting dressed.
The photographer starts late and you may not get as many photos as you had planned.
Then the cars run late, you arrive late, the service runs late and so it goes down the line. I don't run late!
I like to have you ready at least half an hour before the photographer is due, this gives you time to get your dress on, go to the toilet – again, and be ready for your photo session on time with no stress.
I allow extra time on the day for you to burst into tears, eat lunch, go to the loo constantly, throw up, pass out (all these things have happened to some of my past brides) and still be calm, gorgeous and on time!
Having done hundreds of brides and their bridal parties, I am an excellent bridesmaid wrangler!
I will also sort out any relative who looks like causing you stress on the day with the utmost calm and patience.
You will have two artists on the day, I will do your hair and makeup and your bridesmaid's makeup whilst my hairdressing assistant will do all the girls hair, so everybody is always having something done.
The bridesmaids will have their hair set, then come to me for makeup then back to having their hair style finished. The day flows smoothly and calmly this way!
You will have my assistance in getting dressed – especially if your dress laces up at the back.
No one realises that on the day you have all had your nails done and it is almost impossible to do up the dresses with fingernails!
I am happy to help you as I have a lot of experience in dressing brides and know how everything, hoops, tulle layers, veils, are supposed to work.
We will travel to where ever you are on your wedding day – no spending ages at the hair salon.
You'll save time and will be able to relax and have a fun, girly, pampering morning with your bridesmaids in your PJ's in the comfort of your own home or hotel room.
It's YOUR WEDDING DAY it should be fun and memorable.