No matter how clever your promo write is . . . no matter how glossy your advertising and website . . . nothing, absolutely nothing, is more believable than the comments you receive from your delighted clients.
That's why this page is here — so you can see just a few of more than 1000 happy brides, brides who let Suzi make their day. There's really nothing more to say . . . her testimonials say it all!
---
Just wanted to say a big big thank you babe for doing an amazing job on our hair and makeup! You made me feel like a princess

thank you so much. When I get some pics of Dee I'll send some through for you.
Nat
Sorry this has taken me so long to get in touch,  but I just have to thank you so much again  for making us all look so great with your make-up skills on the day of our daughter Rachel's wedding. I personally felt a million dollars because of your wonderful work, had so many compliments, which made an " old girl "  feel good !!!!! And as for Rachel & Bree , they just glowed all day & night , and the photos tell it all
Suzie, you're a Treasure,  thanks again
Marie McLean
Finally got some photo's back thank you so much for the lovely job you did on all 3 of us !!!!  We have never had our make up done before and what a difference I wish I looked like that everyday !!!! We all felt beautiful and the day was something to remember wouldn't of changed anything loved every minute !!!   Mum thought you were absolutely lovely and still talks about you and when the next event will be to get you back !!!!
Thanks
Rach xx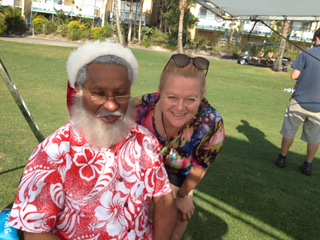 Season's Greetings, the Bestest Make Up and Wardrobe Specialist in the Whole Wide World (www.)  :)) . Thank you so much for the photos, they were just Funtastic. I just want to say how I so appreciate your Professionalism and attention to detail with what you do. I, as a Virgo, really understand that, the results speak for themselves. Thank you for your caring for both Robert & I and particularly for me…"the glue!", "my beard!". Yes, you are certainly the "Beard Slayer" ho! ho! ho! :)). I wish you and your family a very Joyous, Happy & Peaceful Christmas. I am honour to have met you, you are a very Special Woman. I want you to know that, "Nothing can demolish the Character that is built upon a Formitable Foundation of  Life's experiences", cheers and be blessed.
Oscar Natera – Papa Christmas
Thanks for all your work on Sunday. It was lovely to meet you. Everything went so well, and we will have gorgeous images in our next issue. Feel free to post any pics you took, and tag us in. 
Thanks again and we'll speak soon. www.theweddingalley.com.au
Nadine – The Wedding Alley