No matter how clever your promo write is . . . no matter how glossy your advertising and website . . . nothing, absolutely nothing, is more believable than the comments you receive from your delighted clients.
That's why this page is here — so you can see just a few of more than 1000 happy brides, brides who let Suzi make their day. There's really nothing more to say . . . her testimonials say it all!
---
Hi Suzi!We really enjoyed the time with you too! You did a superb job on our hair and we couldn't have been happier! Yes will be happy if you give my email address to ABIA and will definetly choose you as the best hairdresser for Brides!
I am totally stoked to have had you be apart of our Wedding day and will be honoured to vote for you and best of luck winning first place again! Good luck!
Vanessa Abel – 6-12-2010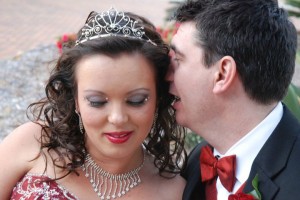 Hi Suzi, Thanks for the gorgeous card

Had an absolute ball with your crew on the day and you were all so professional. Everyone looked awesome and I cant thank you enough for saving my desarster with my bouquet… I couldnt even see the error once you had put your magic touch on them and saved them from looking terrible. I have been raving about you ever since the wedding and telling people to try you for their events.I hope you like the photos and put me on your wall with your gorgeous brides

Im the first RED one 😉 hahaha Forever
Grateful xxxVita & Jamie Little. 28-08-10
Dear Suzi!
We had an amazing Wedding day! The best ever! Thank you for making me look so beautiful and sexy! Everyone has commented on how gorgeous I looked and I felt a million bux! Bill nearly died when he saw me!The professional photos are amazing, my photographer did a beautiful job and my hair stayed in all day.
The bridesmaids looked stunning as well, all their curls looked so modern and pretty and they also got commented on their blue dresses heaps!
Thanks once again for everything, the trials, the time, your patience. Cheers, Ness Abel. We had the time our lives! xoxo Will pass on your name to everyone I know!
Ness Abel – 06-12-10
To Suzie Well what can I say, you are truly AMAZING! From arrival to finish, everything was just spectacular. Our hair and make-up was spectacular! You made the day fun, exciting and which contributed to a stress free and relaxing lead up to the wedding. Your effort went above and beyond and for that we will always be truly grateful.Kelly, Shane, my husband and I wish to thank you and Chris for helping to make us look gorgeous on Kelly's special day. We will be sure to tell our friends of the outstanding attention to detail and service you gave us on this special day.
Janelle and Lorne Chapman & Shane and Kelly Kuhz 14-08-10
Hi Suzi,A big THANK YOU for doing such a great job of everyones hair and makeup on my wedding day.
You arrived to our room with some much enthusiasm making us all feel very relaxed and excited.
It was great to have you there when the nerves started to kick in, your tricks of the trade really helped so thank you.Take Care,
Lisa Hesketh (Baker) 8-05-10